Keep taking landscape photographs
March 16, 2018
They say practice makes perfect, and that is very true when I remind myself to keep taking landscape photographs! Not long after upgrading to my current camera, the Canon 5DmkIV, I knew that I had to visit some spectacular locations to start updating my fine art landscape photography portfolio. This is a fantastic camera for landscape photography with its 30-megapixel full-frame sensor, excellent weather protection and amazing selection of lenses.
In May 2017 I took my next opportunity to keep taking photographs… and that was to visit Central Australia, as part of a guided tour group with the famous Ken Duncan! This was my first time back in the Northern Territory for many years so I was anticipating some exciting times!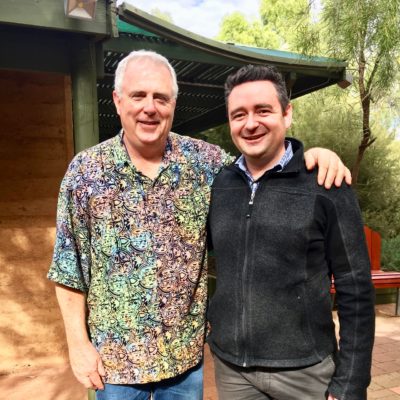 Having been self-taught in my photography, through various online courses, books, experimentation and experience, the excitement of joining someone with over 30 years of experience out in the field was one that I didn't want to miss. Ken is well known internationally for his landscape panographs. I always enjoy learning new techniques, methods, and visiting new locations. Some of the most enjoyable times I've had shooting landscape photographs have been on location with fellow photographers. Maybe its something about us all sharing ideas, adapting to conditions and keeping each other company while waiting for the sun to rise (or set)! It can get lonely out in the middle of no-where!
If you have the opportunity to go on a workshop with a pro-photographer, I highly recommend it. Having other experienced people working alongside you is always a great way to sharpen your skills and have a great time in the process.
Anyway, back to Central Australia, this place is amazing and there are so many beautiful locations to photograph. I can't wait to get back to Uluru in June 2018, hopefully, I'll be able to see some awesome sunrises and sunsets and its the perfect time for the Milky Way to be out for Astro shots. Hoping for clear skies after sundown! If not, I'm sure that I will still be making the most of every opportunity to get that 'next shot'.
The most important thing I have learnt though is that you just need to keep shooting. Often the weather can be terrible, with cold rain and wind or a flat sunrise or sunset with no interesting light or cloud formations. Even with the best planning, you don't always get the result you want when trying to get those perfect landscape photographs. I wouldn't be the first landscape photographer who would admit to having to go back to a location more than once for those ideal conditions! Often though, and something that Ken has taught me is that don't give up, as while the sky may not be doing much when you want it to, it will change in an instant, and that is when to take the photo, before the moment disappears, and its something I can truly say that I have witnessed many times.
If you are visiting a major tourist attraction like the 12 Apostles down along Victoria's Great Ocean Road, you will see the busloads of tourists appear just before sunrise and leave as soon as the sun has hit the horizon. I don't mind when they go early as usually just after that is when all the magic can happen with the sky turning amazing colours. People are so quick to take their photo showing they were there and not truly appreciating the location before moving onto the next place on their hit list. When you find your ideal location, make the most of it. As the light changes, test out different angles, zoom ranges and settings on your camera. And don't be in such a hurry to pack up until it is truly over! (Unless you want to then hang around and watch the Milky Way Galatic core rise of course!
To purchase my Fine Art Landscape Photographs for your home or office, please visit my Landscape Photography Gallery.