About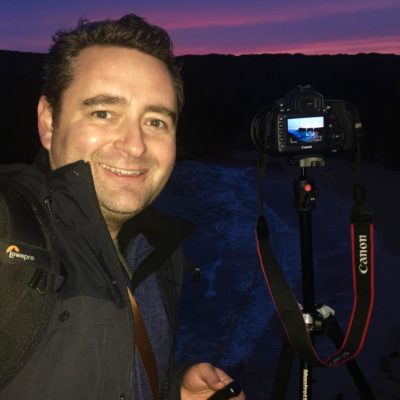 Thank you so much for visiting my website showcasing my landscape photography!
In a recent article published by Qantas, Champion surfer Kelly Slater, has described both his greatest strength and weakness as one and the same, that of "never being satisfied". This characteristic is one I believe we have in common and brings with it a drive to push forward, to make the most of every opportunity and to pursue each interest and skill to its full capacity. It is this drive that has enabled me to move from someone who has an interest in landscape photography to someone who is able to share my images with you today produced in a professional and premium way.
I believe my journey into the world of photography has its foundation in the creative side of my personality I am privileged to have inherited from my mother. An accomplished artist herself, she nurtured whatever creative interests my sister and I wanted to dapple in. She must've hidden her dismay at my significant lack of drawing skill extremely well as I never felt anything but encouragement growing up and she and my father were very generous in supporting me in my natural skill set of business acumen and an insatiable fascination with new technology. It is in more recent years I have discovered the beauty of landscape photography which enables me to combine a naturally artistic eye with my other love – (and as my wife would point out "expensive" interest) travel, cameras and computer technology!
Over the past few years, what began as a creative outlet to provide much-needed "down time" from my numerous other responsibilities and my main focus of corporate work, is now a fully fledged business in itself. In my strive for the next step, I also maintain what I hope is a humble approach. What I mean by this is that I have always been acutely aware of my status as a beginner in this field and as such have actively sought every learning opportunity possible. I have attended courses and workshops, photography tours, traveled to locations, tapped into and downloaded resources and had the privilege of being mentored by the best in the industry. I certainly don't take for granted the amazing travel opportunities I have been privileged to experience over recent years and this appreciation is in part what has prompted me to share these images with you today.
I believe landscape photography has a unique ability to transport you to another place. Capturing moments in time that will never be repeated is something pretty special. I also believe that we are wired as humans to be relational beings, not to live in isolation but in community with others. When a photograph is appreciated by another person it means to me that my experience, my captured moment, is able to be shared. It is with this as motivation that I have put together the photographs you will find on this website. Please feel free to explore my current gallery of landscape photography.
I must admit to being somewhat of a perfectionist and unfortunately, this has led to my reluctance to make my photographs available until now. It does, however, mean that I am constantly striving to improve my skills and as such, I am always embarking on new experiences, adventures, and opportunities. I hope that these images bring you some of the same joy I have had in preparing them for you. Stay tuned for more to come as my gallery expands….
PHOTOGRAPHIC EQUIPMENT
I have always used Canon Digital Cameras when I have shot weddings, portraits, corporate events and now landscape photography. My current main camera of choice is a Canon 5D Mark IV and my favourite lens is the 16-35mm F4L IS USM MKIII. I also exclusively use Nisi Filters and Manfrotto and Sirui tripods for steady shots.
My favourite drone that I use for aerial photography at the moment is DJI Mavic Pro with Nisi filters as required.
IMAGE LICENCING
I do sell my digital files to individuals and companies for alternative uses. If you would like to purchase the rights to use one of my landscape photography images for your particular needs, please use the Contact page providing details of the requested image and usage information for a personalised quote.