Where it all began…learning landscape photography
March 13, 2018
So this was my introduction to learning landscape photography. After a few years of running my first business that was focused on wedding videography, in 2006 I started to take landscape photography more seriously with the purchase of my first DSLR, the Canon 30D. It was a great camera, with an 8MP APS-C sensor it was the perfect introduction to a more serious side of digital photography, and back then prices of digital SLR cameras still were at the higher end and well beyond the reach of most people. But my task was learning landscape photography and I knew it would be the perfect model to get started on. I had to settle for this mid-range camera, which was still considered semi-pro with its metal body and similar button layout to the more professional options available for those in full time commercial and sports photography. I remember going for one of Canon's professional lenses, the 17-40m f/4 L wide-angle lens. This was a great lens as it was weather sealed, lightweight, sharp, and a great performer for the size. The L series of Canon lenses were already well known to be highly reliable, which is what you need when you are out in the elements!
Travel to the Himalayas to learn landscape photography
Not long after purchasing my DSLR, I also had the opportunity to travel to Nepal, on a 3-week hiking trip in the Himalayan mountains around the base camp of Mt Everest and surrounding mountain ranges and walking tracks. This was spectacular scenery and in reality, my landscape photography skills at the time did not do the place justice. We hiked around the mountain tracks and made it back safely to Kathmandu without any major incident. Most people in my tour group came down with some form of altitude sickness, but thankfully I was able to avoid that. Maybe one day I'll be able to get back there…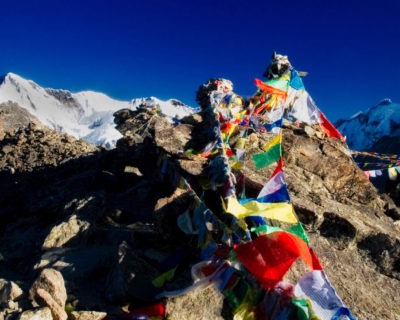 I remember how difficult it was to shoot landscape photography at high altitude. We were there during winter (over December), which meant that the days were mainly just cold, but thankfully generally clear in terms of clouds, rain and snow. During the day there was often a fair amount of glare from the snow-capped mountains and very little clouds which made exposing difficult and I didn't have the knowledge I do today on how to use filters correctly to ensure the scene is captured properly. Mind you, we were limited by what we could carry given the location and it wasn't like recharging options for batteries up in the mountains were readily available. Now you can carry a solar panel charger on your backpack to ensure everything is charged up. Back then we were relying on a couple of main villages for charging and it was around $5USD per 10 minutes.
What about editing the photographs?
It is amazing how much technology has changed the way we take a photograph. I hadn't yet learned how to use photoshop which was still a clunky complicated program and the software we have now has certainly made things easier with processing RAW files and extracting all of the details of dynamic range from a photograph. Not to mention you needed a computer that could power the Pentagon to run the software!
I do remember on a couple of occasions having to take cover quickly when out in the open in the Himalayas due to low clouds that would seem to instantly surround us and reduce visibility to just a metre or two! Furthermore, the group we were hiking with didn't always want to stop when I did to set up the tripod and get the camera out! If I was to go back there again someday I certainly would try and organise the trip with a group of photographers. Learning landscape photography on the go can sometimes produce interesting results, especially when the conditions push you to act quickly.
Landscape photography conditions
Up in the higher regions of the Himalayas, the land was also very barren, with very little vegetation and mainly dirt and rocks. The dirt was very similar to talcum powder and would easily get into your bag. It was important to keep the camera protected when changing lenses, and we usually wore scarves over our faces when it was windy so we didn't breathe in the dust. However, the mountains were spectacular. I will never forget how impressive they were, with the higher peaks covered in snow. When you are surrounded by amazing landscapes it is the natural reaction to just absorb it all in and for me, the next step is to want to take a photograph of the scene to be able to share with others. That's what I plan on continuing to do as I travel around to some of the amazing locations on planet earth. The state of Tasmania, for example, has many beautiful national parks that people travel all over the world to visit, such as Cradle Mountain national park.
Interestingly, there are annual stories of hikers getting caught out in the Himalayas. While I didn't venture up anywhere near the places these mountaineers go where you need oxygen bottles and specialised gear, you can certainly not take for granted your safety when walking in these types of locations. Especially when you are walking along a goat track and a line of yaks, carrying various supplies wants to walk past you! We would all try and get out of their way as quickly as possible to avoid being knocked over!
To purchase my Fine Art Landscape Photographs for your home or office, please visit my Gallery.